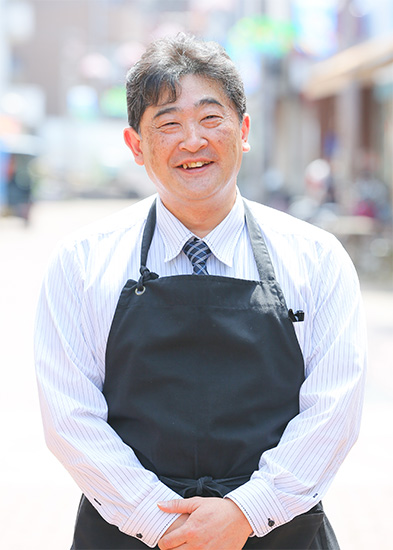 プロジェクトマネージャー 伊藤 泰介 / Project Manager: Taisuke Itou
私は市場の仲卸、食品会社の製造、販売店の店長など、食品業界10年の経験を持ち、当社に入社しました。「野菜の数だけキムチはある」をテーマとした斬新なアイデアや「地産地消」をテーマとした「神奈川野菜」の普及など、地元に貢献しながら社員みんなが楽しく仕事ができる環境は、とても居心地のいい職場と感じています。
グリーンフーズあつみは工場にいる職人のみなさん、製造や商品管理、仕分けをされている従業員のみなさん、パートさん、アルバイトさんなどの各店舗・催事販売員のみなさん、多くの方々とコミュニケーションを取りながら、誰もがいつも新しいことに挑戦でき、楽しく笑顔あふれ、異国文化交流までできる貴重な企業です。
「健康で美味しいキムチのあるライフスタイル」。私も、その考えに惚れたひとりです。

I had 10 years of experience in the food industry before joining this company, working as a market broker, with food company product, and a shop manager. With the spread of fresh ideas like the slogan "Kimchi with as many vegetables as possible" or the "Kanagawa Vegetable" slogan "Local Production for Local Consumption," I feel this is a most comfortable workplace with an environment where staff can enjoy their work while contributing to the local area.
Green Foods Atsumi is a valuable company where you can communicate with and even have international cultural exchange with many people, from the workshop craftsmen, to staff in charge of production, product management, and bookkeeping, part-timers, temporary staff, shop staff, and special event staff. Everyone is always able to challenge new things, overflowing with smiles.
"A lifestyle with healthy, delicious Kimchi." I have fallen in love with that thought.